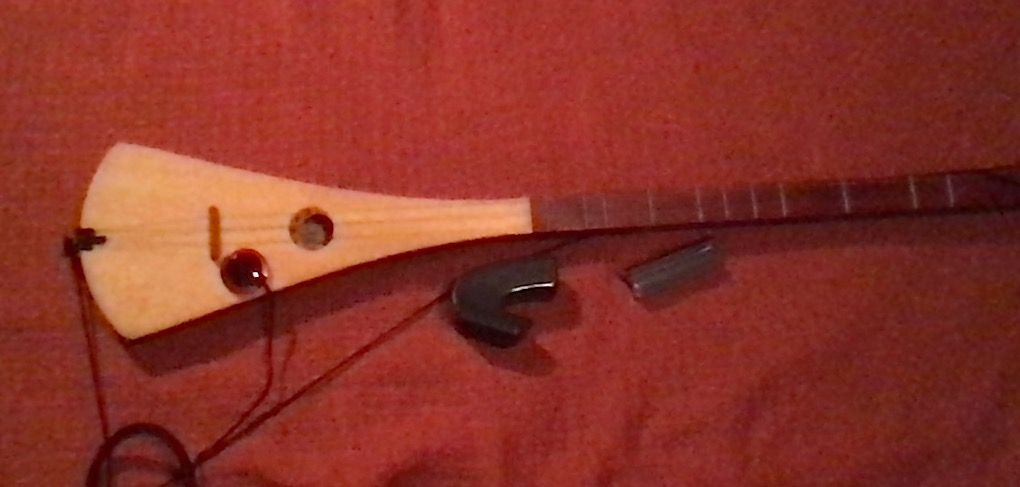 I enjoy American Primitive style, and the way just one guitar alone is enough, how it isn't about ego/shredding, is about expressing and innovating using a variety of a person's individual genre influences. I'm happy that some American Primitive players use electric. Some of my riff-tunes are just that, fittingly recorded lofi.

An older relative in Appalachia made me instruments when I was young -- a balalaika, classical guitar and mountain dulcimer -- inlaying tiny pieces of wood into circle after circle of decoration with his gouty hands. My ancestors played music at the homestead on the mountain, the huge family playing together and inviting the community for salons.
When I still had the balalaika, I took a piece of metal from an exercise machine, and because of the way it was bent and rounded up on the edges, managed a sitar effect when playing phrygian dominant gypsy music.

I'm not a folk player, but I incorporate some of those kinds of instruments combined with some of my other favorite sounds like British Blues Rock string bending and vibrato plus Psychedelic Stoner Drone Doom distortion, delay and shim pedals with a slow heavy beat. I employ a slide and an Ebow to get unique effects.

This Strumstick was a recent gift, not something I would have thought of acquiring. Love it. Turns out, it's a type of stick dulcimer! I don't usually play it straight plucking or strumming: besides the bending and vibrato, I get creative tones by going back and forth right on the frets, sliding fast notes, and such. I have lifelong extreme insomnia, so, as I lie alone in bed for several hours a night, I play this thing acoustic in the dark.

I use a hand drum. Sometimes I amplify it and put through pedals; hands are only one of endless possibilities for striking it with. Fitting it into a guitar stand stabilizes it so I can use a kicker when jamming.

I like to play the acoustic guitar with a small bow.

I use lots of found objects too, but we'll get to that another day.