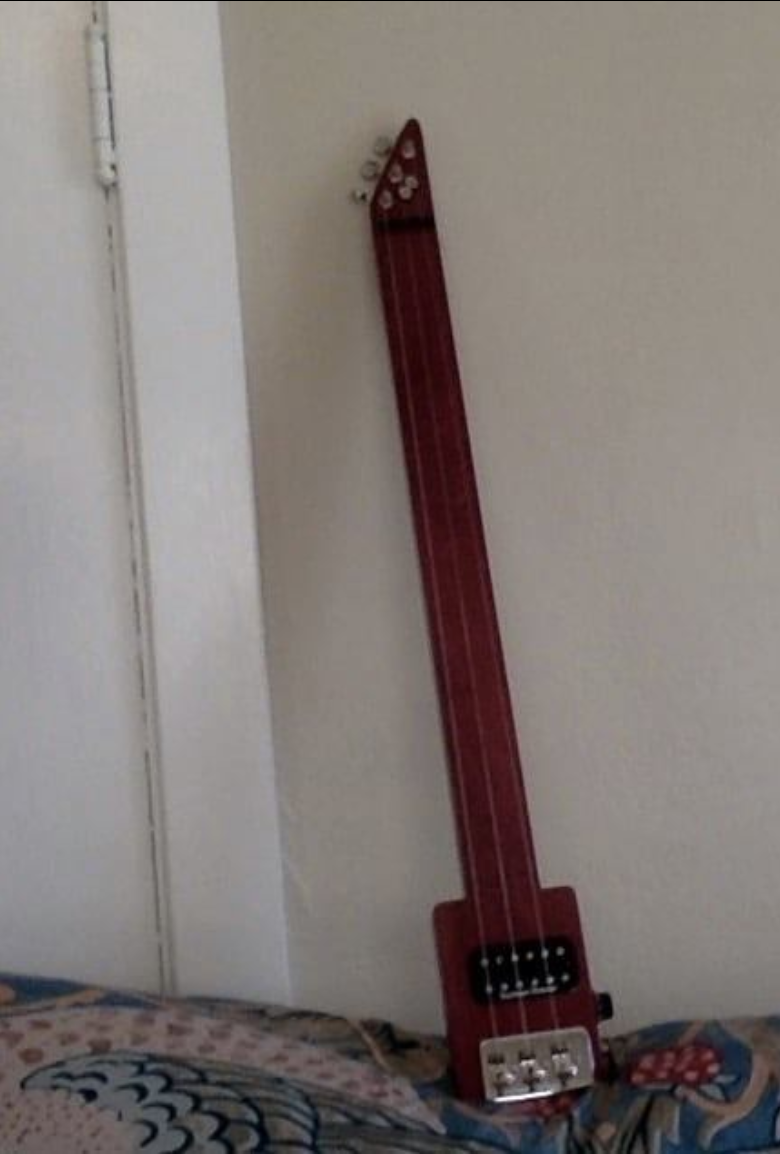 Hell if I know:
This music lunges and rolls around the genre landscape ground. It slides into mirages and pulls itself out covered in Desert shimmer. It's a noble animal.

The created music includes such as this: cinematic soundscapes portraying intense locational events like a storm at a belltower; a lone electric guitar tune wafting a man who's packin', walking down a western alley in high heat; an instrumental conjuring a survivor ragtag army forming in the post-apocalyptic woods; lyrics that lope beyond words; an amp-busting celebration of lo-fi mic to lurch around the room to with your friends...

Little bows, one-off lap steel slide, Gibson Paul 1996, electrified steel string acoustic, electrified Stumstick, electric live edge, percussion. Creeping toward to reach out toward Space Stoner Drone Doom Post Rock/Metal and touch them and scamper back toward the forest of the chimeras.

Some of the more complex songs and the soundscapes are Experimental though not what has become pop Experimental in the new vernacular. Found objects -- such as rattling a sheet of plastic in front of the mic to get an effect or shaking a container of tennis balls for the beat. Cinematic American Primitive with Power Chords, Drone Avant-Post-Everything.


Musical History, if It Matters for Some Reason:

Grew up playing Grieg on silver flute (had a flute scholarship). Sang German lieder, Samuel Barber, etc. at state contests, getting first place, was well-trained. Composed all parts for a song performed by a choir, including piano, dulcimer and vocal solos, made the posters too. Mountain dulcimer especially influences the drone. A relative made the stringed instrument presents with his gouty hands.

Played The Beatles "Within You and Without You," "Flight of the Bumblebee" Shoenberg's Pierrot Lunaire, Shubert's Winterreise and Mazzy Star's "Fancy" on classical guitar back in the day. Holding the electric guitar on the left knee is still natural. Played balalaika using creating an unusually shaped slide from a piece of exercise equipment to improvise sitarish gypsy music on it in the Phrygian Dominant mode of Doom. Played zither, and, like the dulcimer, it's played on the lap, which seems reasonable. Improvised neo-classical passionate longing often, alone on a piano in a chapel built right into a boulder, with the founder buried in rock as well.

Jammed playing an unruly big ol' flock of percussion instruments, such as with an electric-kalimba-centered band and in the wilderness dirt naked singing, dancing around the flames, banging drums for hours animal. Made hedonistic avant-garde music using entirely found object instruments with three musicians, some of which was in our comedy movies. My favorite percussion was leaping up to kick in beat an aluminum shower door. Made music videos with some of those songs incorporating my art.

Once improvised percussion with a chimpanzee.

Mosh, headbang, dance, jump, animal.

Current Influence Genres

Drone Metal, Doom Metal, Neo-Psych, Post Rock, Post Metal, Post Punk, Shoegaze, Atmospheric Black Metal, Stoner Metal, Stoner Rock, Noise Rock, Art Rock, Avant Garde, Space Rock, Krautrock, British Blues Rock, Avant-Rock, Hard Rock, American Primitive.

But that Instrument!

One-off three stringed fretless lap steel guitar handmade by Monkeymatic. Especially interesting played with an Ebow, pedaled with distortion, shim, delay.