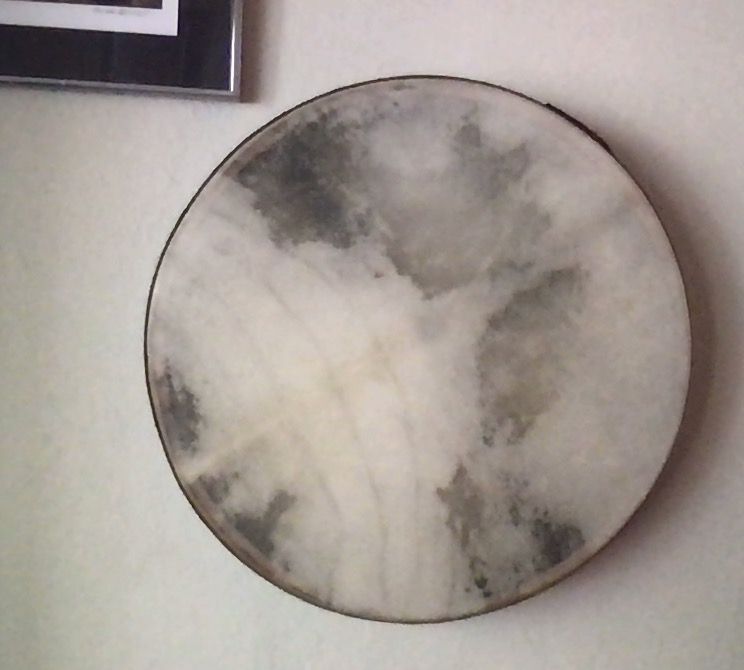 These quotes are not meant to be used by media without asking first.


I love them. They remind me of the American guitarist Bill Horist. Either way, I am a fan of Horist, and now I am a fan of you, too. I wish you every success with your release. -- Andrew Backhouse, Parish News Experimental Radio Show

"I really like the track, your vocal delivery reminds me a little of Marianne Faithful ! Really cool!" -- Ross Beattie It's Psychedelic, Baby Magazine podcast and interviewer

The soundscapes took me to a different dimension, a different place. After the ride of "The Storm at the Belltower," I need a cigarette. In "Haunted Parking Lot," the vocals at the end made me cry. It really moved me, got to me, hit something deep. That doesn't happen to me often. -- Kristen Anderson, daughter of symphony conductor
You are channeling something special. Don't let anyone tell you you are not a Magician. Your music and tastes are revelatory to me. The music you play especially. I listen on headphones while I'm writing or meditating. I can hear your fingers! It feels like I'm in the room, basking in your energy, I am alive! I see the value of metal, especially the vibrations over and over, it's liberating and freeing and meditative and when your hands are on the guitar, wow- I feel undefeatable . Please don't stop. -- Ernie Vecchione, screenwriter and author, (Sex Ed, Devil's Catch, The Amish Girl) IMBD 

You are an amazing sonic architect! ... COOL MAN! That " Ice Saw" song is WILD! ... I LOVE YOUR MUSIC TOO- Lori Bravo, in Hear She Roars
"Sleepwalking in Snowdrifts" makes me feel a 'great' salt flat vibe.... (N. central Oklahoma) -- A Trenary 
"Sun and Moon:" Wow! This sounds like a background track to a late '60s poetry reading in a candle-lit squat, air redolent of patchouli oil and weed. -- Ian Gray, musician, married to musician Claire Lynch
"We Are Earth:" Lovin' it! The music has got that crunchy stoner vibe, with a dark hue I can appreciate. -- Billy Goate, editorial board at Doom Charts, Editor and Chief at Doomed and Stoned 
"For Russia" Fitting title - I can hear it as theme music for a remake of Dr. Zhivago. -- C Benslay
"For Russia" thank *you for bringing the good feeling and most of all Surprise! "Do You Not Remember Me, Man" his is so cool (bodhran !) / only thing it even vaguely reminds me of is the Irving Klaw Trio spin.off called Hochenkeit. and your voice really makes it happen, carries the *drone* that you'd ordinarily get by way of a shruti box or something (it's the sort of thing Van Morrison would do, his voice becoming something like a *horn*).-- P Schwartz
"For Russia" Dark and mysterious, menacing. Makes me wish I was a movie maker, i would use this somewhere. -- E Silberman
"Are You There?" This was really cool. Beautiful. Thank you for posting your music. It's incredible moving. -- K Keats
"Storm in the Belltower" That's really good and I can't think of anything to compare it to. Maybe early Sonic Youth, or Half Japanese -- Rogan Russell Marshall, musician and filmmaker
"Are You There?" Beautiful tune. Those, who listen, get there -- Мария Кашкина of the fantastic Doom band in Moscow, Train To Elsewhere
"Are You There?" This is nice. Sort of ambient, spacy, but then occasionally some energy when it picks up. -- Kyle Muntz, genius literary author

"Are You There?" This is great! very atmospheric sounding -- Брюков Антон of the excellent band, Train To Elsewhere

"It's a great sound reminiscent of Neil Young's score for Jarmusch's Dead Man, which I love." --Jonathan Hourigan, filmmaker, London Film School

"Trek to the Edge" Wow, that was amazing. Love it! I don't think I ever get unironic guitar face, but I definitely got goosebumps listening to this. And your vocal drone is fantastic. I could and will listen to this over and over. I think you're a genius.-- S Gilmartin, poet
"Trek to the Edge" Dead C/Luxurious Bags territory, 'cept *different* : yinz are a quasar of surprise. -- P Schwartz

Its pretty deep and distinct.. reminds me a little of mazzy star back in the 90s... Its very transcendent. -- A Liccione

"Trek to the Edge" I'm getting a vintage black and white Godzilla movie vibe here - in slo mo of course...that or Sci-Fi of some sort...nice. -- Tom McCarthy, musician Sundae Sauce

"Sun and Moon" I am enjoying to the deep, bluesy, guitar which has a psychedelic energy. Reminiscent of the 70's yet it also has a really good progressive feel. I like it! -- C. J. Heigelmann acclaimed novelist Amazon page

Music: Your music is so diverse and resonates with the listener's mood. Every piece is like a unique journey. It's great! As a super-empath, I pull a lot from your music. I can ride it, the subtleties, the intended, the voice. It speaks to me. The compilations of selections that I have listened to are multi-genre and some are free from genre or labels. It declares its existence without pre-determined cause and effect which is the most pure form of music, likened to Jazz, Miles Davis etc..without form but yet with form, purpose, and intent.

In all honesty, your music is in a rare class, almost something that modern day music will become in the future, yet it is here, now, has purpose, and is enjoyable! I do dig it. I'll be purchasing your music, and specifically music to listen to as I write the second Thriller novel in the trilogy. The mood created is something I can tap into. I can write with or without music, but the lyrics get in the way sometimes of the mood, whereas you have works that don't have certain lyrics which help to define the instrumental.
Your music can be used as movie soundtracks, commercial genre-specific, mood music, to name a few. Are there others that do this? I've not been exposed to anything like this. My closet comparison would be a fusion of Pink Floyd, Blues, and a host of psychedelic bands during the 70's, Including instrumentals from the Doors, Cream, Free, Zeppelin, etc. Maybe even some later Beatles instrumentals during the psych period. I don't even want to define it, just experience it. It's good. It's really good stuff. C. J. Heigelmann acclaimed novelist Author. Goodreads group about his book.
"Ice Saw" It has a metallic industrial violin wavelength to it, a steady rhythm of work being done and conveys the certainty of the machine and the despair of becoming another gear in the mechanism. The futility of it all.-- C.J.
Heiglemann, author

"Trek to the Edge" It has a psychedelic native American feel and chant to it. I dig it.--C.J. Heiglemann

"Haunted Parking Garage" It's wicked yet inspirational. Tells tales of the past, yet implies a current struggle. You could read certain genres of fiction listening to this class of music and accentuate the mood. --C.J. Heiglemann
"Haunted Parking Garage" I love the multi-layered sounds and suspenseful buildup! Absolutely stunning and satisfying throughout. -- Carla Wilson, Author
"Ice Saw" Sounds ominous. I love it. -- Colin Turner, Artist

Love the John Cage-y 'prepared' ambience of your sound. Raucous but kinda soothing. -- Dan Troxell Photographer

"Mama Forest" Played it after work and immediately played it again : your presentation is Magnificent ! in kinda picks up where Bardo Pond leaves off / dives into Dead C. flavored territory, but is completely and utterly your own! -- P Schwartz

"Mama Forest" Meanwhile I've been listening to Mama Forest this morning and it transported me to a different state, far from my "prison cell" (in quarantine.) Beautiful rich sound with eerie songfulness creeping in. Got  even more interesting with your edgy enunciation. -- Harvey Thomlinson, Author, Publisher and more

"Mama Forest" Listened to MAMA FOREST a few times now. Tremendous stuff. -- Jonathan Hourigan, head of Screenwriting at London Film School

"Mama Forest" Wow that's really cool ! I like the solo at around 10mins and the ending is great ! Nice work indeed. -- Billy Goate, Doomed and Stoned


"Mama Forest" Holy crap … I sat with this production today girl. 
I've decided that I'm going to take this piece into Hades with me. It's work that I have been putting off for a while. There has been a facet missing from the entrance to Hades for me, and I believe you just gifted me with that. 
I'm afraid, but I'm going to go anyway because I have a calling to do so… and have for a while now. 
I listen to 10 minutes of it with my eyes closed today, and it took me to a place that exists in its raw energy, and yet I have never explored it. 
Thank you?, may be premature is stating so, but I'm confidant I'll rise on the other side a completely-different-person. 
I love you so much and thank you for sharing such a deep part of yourself with me. 
Ps - The vocals are awesome -- Tiffany Millerbis, Massage therapist

"Mirage" It's really great and I like "Anyhow" which just arrived on Bandcamp too. And I really dig Bad Hair Day on Saturn !-- Ross Beattie, It's Psychedelic, Baby Magazine

"Haunted Parking Garage" Your music compels me to hang in shadowy places at night and seek vampiric transformation . . . just sayin' . . -- E Ferry
"Bad Hair Day on Saturn" Like this. I'm a big Mogwai fan. And to me, this has overtones of Mogwai. -- Ron D'Anena Musician
"Bad Hair Day on Saturn" This is cool. -- A. O'Neil, author, guitarist
"Guitar, voice, lap steel slide guitar played with a bow, bodhrán drum." Very interesting and intriguing outcome. Eerie! Thank you very much! -- J Strahl

"End of Neverending" Love this! -- Rob Sneddon, guitarist/singer for SKY PIG at SKY PIG 
"End of Neverending" That was HEAVY! -- J. Strahl 

"'End of Neverending" Got a chance to listen to your new composition, and think you're really onto something here! Love the mix of psychedelia and drone. got a chance to listen to your new composition and think you're really onto something here! Love the mix of psychedelia and drone.  Been taking in a lot of OM lately, so it dovetails with it very nicely." Billy Goate, Doomed and Stoned
"End of Neverending" I'm really digging End of Neverending. I'll definitely grab that song up. It's nice and creepy droney...like walking through a mysterious magical forest. -- Andre G. Dumont musician Dead Harrison
"End of Neverending" Just found out about this today, and I'm glad I did. Intriguing stuff! -- Vinaya Saksena, guitarist at Critical Mass
"End of Neverending" It's brilliant! -- Matheus Jacques, Bruxav music promotions, event producer.

Love what you're doing with Sound Animal! -- Emma Williams, bassist Forgetmenauts
i went to buy t-shirt , heard your music.reminded me of iron butterfly in the day with across of something i haven't figure out yet good shit ... u are amazing -- R Collins
 
Finally checked out your piece. great stuff definitely something that would fit in one of those early floyd sets. i'll give it some love great work you're very talented: shine on! -- L. Ibarra

Wow, I just listened to Botulism Cafe on Soundcloud. I was blown away by how powerful it is, and it put a smile on my face. I would never believe that was a lady in Berkeley making all that ballsy musical noise. -- David Soref

 
And then there's:

"Is it supposed to sound like that? Lol."

"Precision slop."

"Cool you learned how to make 80's Sci Fi music."

"It's like my friend, he always wanted to be in a movie, and he was in one. It was terrible. He was awful. I mean, he got to do what he wanted. He didn't put any feeling into it. It was all so lame. Um. I forget where I was going with this..."

"Someone give some kids guitars for Christmas?"

 
Some bands Sound Animal has been compared to include:

Merzbow, Rodion GA, Neil Young's soundtrack to Dead Man, Acid Mammoth, Acid King, Barbara Manning, Sonic Youth, Half Japanese, Hochenkeit, Dead C, Luxurious Bags, John Cage, Free, Syd Barrett, Bardo Pond, Mazzy Star, Bill Horist, Marianne Faithful, Mogwai, Hawkwind's In Search of Space, Iron Butterfly, Pink Floyd.