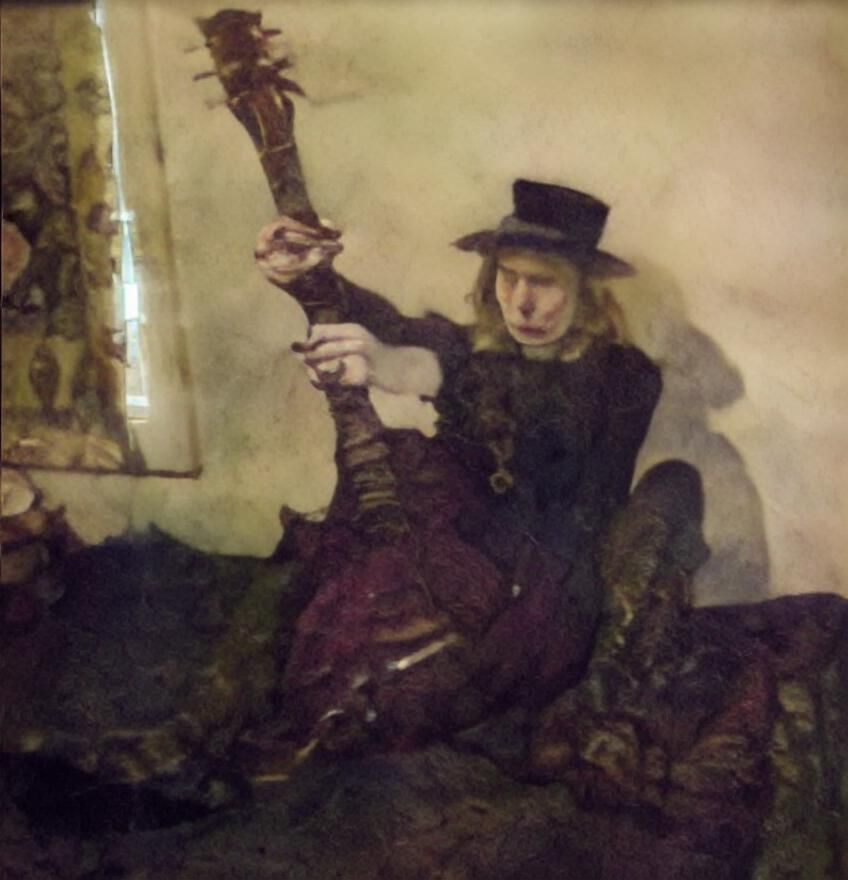 Welcome to Electronic press kits
Are you an animal of sound, too?

In addition to the most relevant downloadable files above, this page has drop-down sub-pages for specific purposes. Since they each provide different information that may actually apply to either instance, you may want to look at each page. Many more photos there. This EPK intro page includes a list of Sound Animal projects below. Contact: flameflower@runbox.com. https://www.facebook.com/soundanimalmusic.

Sound Animal is a band in Berkeley, CA, does not perform live, distributes singles regularly, is signed non-exclusively with Kryrart label, promises to get real band photos taken, but in the meantime, any pics you download from these pages need no attribution, as they are by Sound Animal lo-fi style similar to this website. Predominant genres include Psychedelic Doom, Drone, Dark Ambient, Avant-Garde, solo guitar dirges, raw songs with lyrics, instrumentals sometimes with non-language vocals.

Sound Animal loves it when people assume the music must be made by a man. Keep it up.

Do you have a radio station, podcast, or have a playlist and are looking for tunes? Go Here.
Great to meet you.

That one includes suggestions for songs for radio station genres, links, URLs and icons of all the sites, quotes of what some people's reactions, a downloadable MP3, downloadable images, a video to watch, a usable summation of Sound Animal.


Are you a reviewer, blogger, interviewer, or write articles? Go Here.
Would love to hear what you have to say.

That one includes a voice clip, downloadable images, brief excerpts from interviews, influences, downloadable song, label, talking points, video you can watch, talking points, link to blog post with all listener responses.
 
The information lives in the underground. It's right underneath us now! The ground is starting to rumble and roil.


Are you specifically interested in NewSoundLand, the Experimental album from Kryrart Ambient coming out in November 2021? Go Here.
What's happening
Some Past Happy Moments:  
Song on The Parish News radio 
Interviewed by C. Siegle
Made guest playlists and conducted an interview for Doomed and Stoned
Song on It's Psychedelic, Baby! radio
Written interview It's Psychedelic, Baby! magazine
Song on The General Stoner Army Radio
Song on Don Compau's No Pigeonholes radio show
Included in Spotify's New Psychedelic Stoner Sludge Doom Rock and Metal 2021
Song on "What's This Called?" FreedomPortland radio
EP reviewed by Stoner Hive
Reviewed by Stereo Stickman
Reviewed by Outlaws of the Sun
Reviewed by ANRFactory
Interview with Sound Pollution podcast and songs on their radio show
Song featured at Pandora in playlist
Album from Kryrart Ambient November 2021
Present:
Moderator at Doomed and Stoned FB group 
Future: 
Album from Kryrart Records Februrary 2022
Compilation album with Vanguardismo Extremo this Fall 
Compilation album with Kryrart
Occasional guest co-host at Sound Pollution podcast