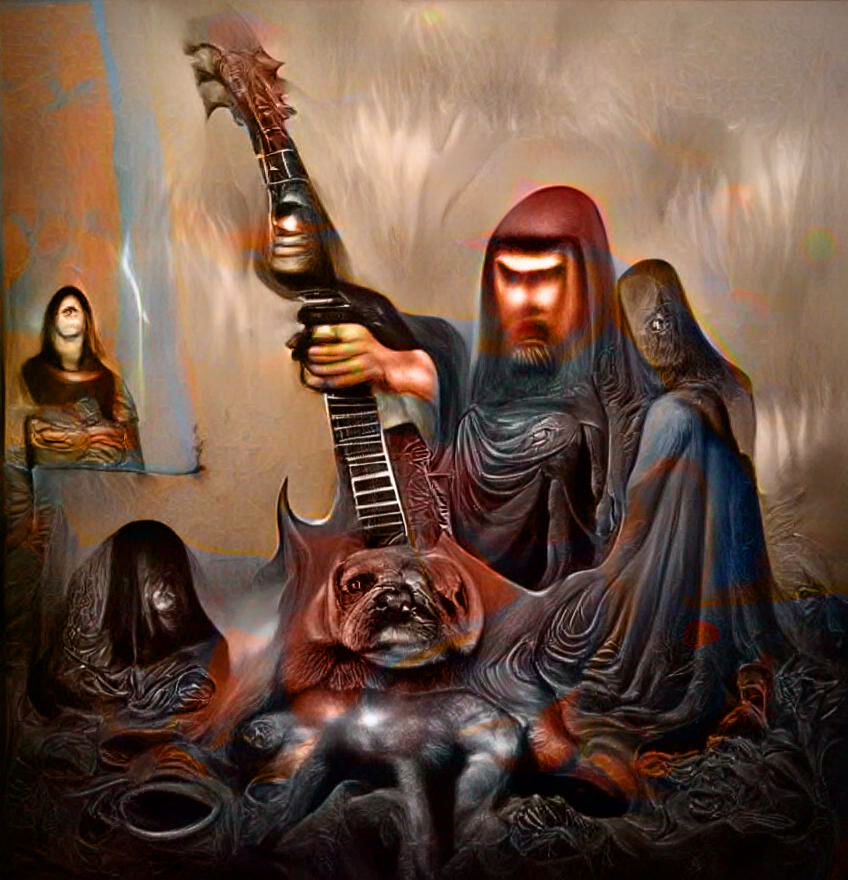 Approximate genres on this page:
Bombastic post rock-avant-garde classical
Noise metal
Avant-garde metal
Raucous and danceable or laughable rock
Jazzy, funky rock
Drone
And, indie singer songwriter, weirdly
 
Sound Animal are at their Dystopian best with a single that might cause car alarms to go off without notice on, 'Outlaw of No' 
After impressively shredding the walls down and bringing us something so brilliant and totally original away from the dull copycats with 'Botulism Cafe', Sound Animal hungrily crunches into our surprised speakers with 'Outlaw of No'. 
Sound Animal is a multi-talented experimental California-based band that somehow manages to fuse in brilliant sparks of enthralling psychedelic rock, electronic, doom and metal to lather our senses alive.
Sending our ears into a new world that has been keeping us locked inside a cage for too long, we find the key to breaking away and running far from whatever has been holding us back from seeing life the way it should be. With a freedom-seeking element of courage and creativity absorbed inside each second – you will feel totally overpowered here – and might need a cold shower afterwards to fully let this mesmerizing single seep deeply into your blushing veins.
'Outlaw of No' from the genre-defying doom-and-more California act Sound Animal, slices a Dystopian world right into our blood-soaked laps like a hundred ravenous claw-hungry Owls who has grown into majestic beasts who seem like they are from another planet entirely. This is a cutting edge piece of art that feels like is perfect for an important scene in a cult-like movie when everything hits the fan, as its cinematic value is absolutely priceless. 
Cutting through your mind and waking you up to live your life, is exactly what is on offer here and this is a song for the brave souls who aren't afraid to rattle the cages of this plastic-ridden world. Music is meant to be different, and this is one of the best experimental adventures you will surely dig deep into all year. -- Llewellyn Screen A&R Factory
Shredding the walls down one by one with a totally intoxicating ambiance that shall heighten all your inner senses out of any self-enforced slumber, Sound Animal ravages our previously-innocent ears with his latest track 'Botulism Cafe'. 
Sound Animal is a California-based and self-described experimental noise/drone/desert/doom Instrumental metal solo artist. 
"Botulism Cafe is Noise Metal. Dirty, farty grit to have fun kicking out walls with. Ballsy dissonance from an apartment bedroom." ~ Sound Animal 
There is a fiery explosion of blaring sounds from a truly possessed artist who is in the prime of his career – with the gusting winds of creativity roaring down on him – like a hungry Lion who needs a snack right now as his belly rumbles furiously. The ear-piercing energy is quite overwhelming at times, with a booming speaker-breaking force that is unlike anything heard so far in 2021. 
'Botulism Cafe' from the experimental dark doom California-based solo artist Sound Animal, is an almost eight minute experience that shall have your over-stimulated mind feeling rather enraptured with this whole experience. This is loud, brash and in your face, with no let ups for a breath at all. Exactly the way it was intended after all. 
This EP, Out Your Cages, is a freedom anthem prompting you to break out!
What is avant-garde metal?